Scenario: you're on a long distance hiking trip, you and all of your gear is sopping wet.
What do you do?
Let me answer my question with a question – what can you do? Wake up, make coffee, put your shit away and hope this day works out better than lasterday. We started today out optimistically miserable, because again, there is no choice.
Before the severe thunderstorm, we had talked about how getting up early and starting the day off quick would be a good idea. Get some miles in fast and see where we landed. Did not happen. Folding up kind of wet shit and very wet shit is time consuming. There were also a lot of trips made to the creek for rinsing the dirty shit off. Good news is that the forecast had sun predicted for most of the afternoon. If we got lucky, maybe there would be a place to hang gear out to dry.
You will find most everything you need on the trail. It might not be what you expected or when you needed it most, but it's there. If necessity is the mother of invention, it also gave birth to a little thing called utility. Like I've said in recent posts – it's not about what you bring it's about how many different ways a thing you bring or find can be used.
Today's 9 mile hike was a real ASS kicker. If you think Michigan doesn't have mountain hikes, check this place out. Start at 1200 ft elevation, peak at 1850 ft. Back down to 1050 ft elevation, peak at 1800 ft. Many of these ascents are nearly straight vertical climbs. The views were beautiful but we paid for all of them in a way that pictures just don't capture.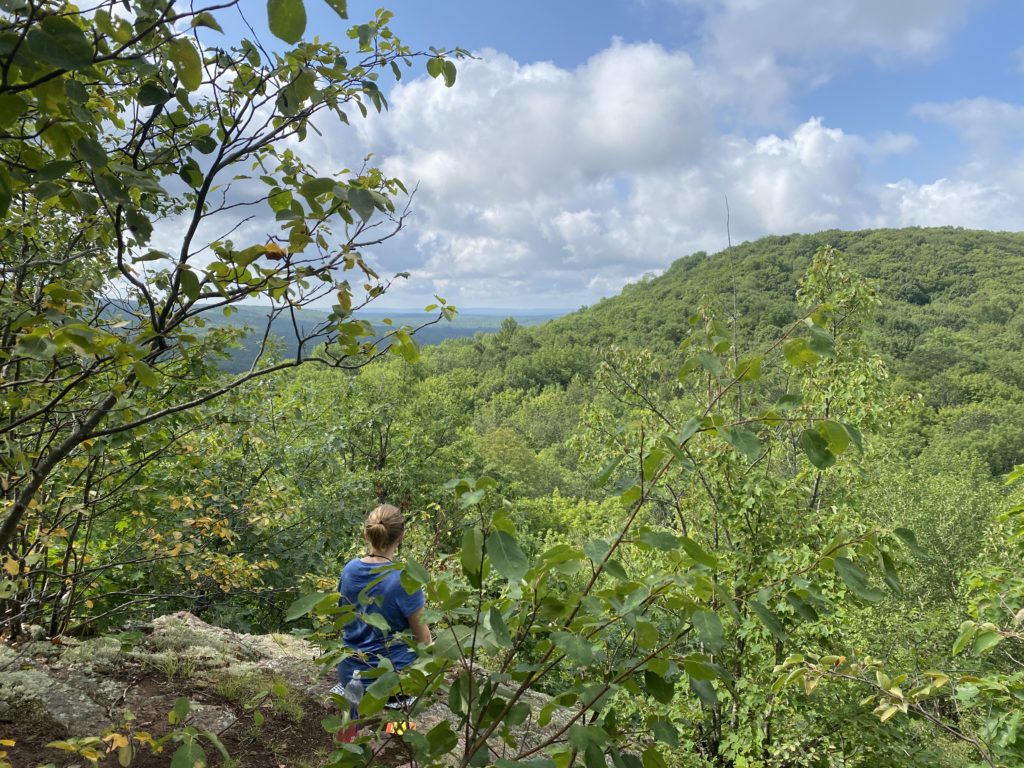 We saw our first people on trail today! Passed by a couple National Forest trail maintenance folks near the middle of our day, a gent & a lady. The conversation lasted all of five minutes. They asked how the trail looked and if we saw and wildlife. We admired their chosen profession and thanked them for all the hard work maintaining the trail so beautifully. The dude was carrying a chain saw and the chick as the fuel canister. What a life they must live, checking for downed trees after storms.
About midway through the hike, we came across just what we needed, an unused railroad track. It was well past time to eat lunch so we got all of our wet gear out to dry while we fixed up chow. Brianna got her umbrella out so that we could eat in the shade while the sleeping bags, tents, shoes, etc. could dry in the 72 degree sun.
Tonight we are camping at yet another beautiful spot next to a creek.
Something I forgot to mention.  There are occasionally signs on the trail that give distances to the next notable locations.  The trail sign from earlier today had a dildo on it.  I'm mentioning this because it's odd.  Did someone find a dildo and put it there in hopes the owner would find it?  Or did someone leave it because they no longer wanted to carry the weight?  Hmmmm trail thoughts to ponder…